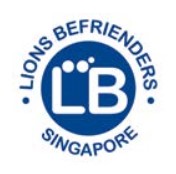 Lions Befrienders Service Association (Singapore) [LBSA] is a district programme of the Lions Clubs of Singapore District 308-A1.
LBSA was established in 1995 as a voluntary welfare organisation after the then Ministry of Community Development handed over the running of the Befriending programme to the Lions in 1994. Its mission is to provide friendship and care for seniors to age in place with community participation, enabling them to enjoy meaningful and enriching lives. It has provided eldercare related services to some 20,000 seniors since its inception.
BEFRIENDING SERVICES
The beneficiaries of the islandwide Befriending Services are 65 years and above, with limited or no family support and are at risk of social isolation. The seniors are matched to and befriended by trained befrienders (volunteers) who visit them at their homes to provide social and psycho-emotional support. At the same time, the befrienders can monitor their welfare and living environment. Through weekly home visits and phone calls, befrienders build meaningful relationships with the seniors to empower them to make positive connections and to live well and independently within their community. More than 12,000 seniors have been served, and more than 3,000 volunteers have been trained as befrienders over the past 20 years.
COMMUNITY OUTREACH SERVICES: SENIOR CLUSTER NETWORK
LBSA has been appointed by the Ministry of Social and Family Development as the Cluster Operator to run three Senior Cluster Networks (SCNs) in Queenstown (August 2014), Tampines/Changi (January 2015), and Clementi/Bukit Timah (May 2015). It has been operating SAC (Rental) and SAC (Cluster Support) in these areas. Under the SCN model, the Association operates SAC (Rental), SAC (Cluster Support) and Senior Group Home (SGH) services for the seniors in the zones with increasingly more integrated services.
Senior Activity Centre (Rental) or SAC (R): LBSA's SACs (R) located at Ang Mo Kio, Bendemeer, Clementi, Ghim Moh, Mei Ling Street and Tampines serve seniors aged 60 years and above living in rental flats near the SACs. The centres promote active ageing and continuous learning by engaging the seniors in a wide array of meaningful activities and courses free-of-charge or at highly subsidized rates. The centres also provide information and referral services, and keep the seniors engaged in a social network while staying mentally and physically active. To date, we have reached out to more than 5,000 low-income seniors residing in HDB rental flats to keep them engaged in the community and live enriching lives.
Senior Activity Centre (Cluster Support) or SAC (CS): LBSA also runs the SAC (CS) programme to provide stepped-up services for frail and vulnerable seniors who have longterm illnesses and have little or no family support. The service provides individual case management and intensive monitoring and follow-through of the seniors' total well-being through higher frequency home visits. By working closely with community partners such as hospitals, and non-governmental and community organisations, the multiple lines of assistance allow for a more holistic and targeted approach to meet the seniors' various needs.
Senior Group Home (SGH): In Financial Year 2015/16, Lions Befrienders will be setting up at least two Senior Group Homes in Mei Ling and Tampines under the new SCN operating model. The SGH is an assisted living option for frail seniors to mutually support each other.
The service has been designed to provide a safe home environment with integrated care services to enable seniors to age in the community.
LBSA also plans to launch home care services for seniors in 2015/16.
For more information about LBSA, you may refer to their website: www.lionsbefrienders.org.sg or contact them at 1800 375 8600.
Lions Befrienders Service Association (Singapore)
Blk 130, Bukit Merah View, #01-358, Singapore 150130
Tel: 1800 375 8600
Active Ageing Centres (AAC)

LB AAC @ 18 Ghim Moh
Blk 18 Ghim Moh Road, #01-115
Singapore 270018
Tel: 6681 4912
Cluster Support (CS) Office

LB Cluster Support @ Queenstown
Blk 151 Mei Ling Street, #01-01
Singapore 140151
Tel: 6681 4949
LB AAC @ 150 Mei Ling
Blk 150 Mei Ling Street, #01-53
Singapore 141150
Tel: 6681 4916

LB Cluster Support @ Clementi/Bukit Timah
Blk 426 Clementi Avenue 3, #01-486
Singapore 120426
Tel: 6681 4020
LB AAC @ 420A Clementi
Blk 420A Clementi Avenue 1, #02-03
Singapore 121420
Tel: 6681 4908
LB Cluster Support @ Tampines/Changi
Blk 494E Tampines Street 43, #01-544
Singapore 525494
Tel: 6681 4939
LB AAC @ 499C Tampines
Blk 499C Tampines Avenue 9, #01-256
Singapore 523499
Tel: 6681 4924
Senior Group Homes (SGH)

LB SGH @ Queenstown
Blk 151 Mei Ling Street,
Singapore 140151
Tel: 6681 4956
LB AAC @ 434 Tampines
Blk 434 Tampines Street 43, #01-77
Singapore 520434
Tel: 6681 4928
LB SGH @ Tampines/Changi
Blk 499C Tampines Avenue 9,
Singapore 523499
Tel: 6681 4927
Senior Activity Centres (SAC)

LB SAC @ 318 Ang Mo Kio
Blk 318 Ang Mo Kio Avenue 1, #01-1453
Singapore 560318
Tel: 6681 4900
Home Personal Care (HPC)

LB HPC @ Queenstown
Blk 151 Mei Ling Street, #01-01
Singapore 140151
Tel: 6681 4916
LB SAC @ 32 Bendemeer
Blk 32 Bendemeer Road, #01-799
Singapore 330032
Tel: 6681 4904
LB SAC @ 366 Clementi
Blk 366 Clementi Avenue 2, #01-527
Singapore 120366
Tel: 6681 4025
LB SAC @ 344 Clementi
Blk 344 Clementi Avenue 5, #01-132
Singapore 120344
Tel: 6681 4976
LB SAC (SA) @ 494E Tampines
Blk 494E Tampines Street 43, #01-544
Singapore 525494
Tel: 6681 4940